We're discussing poker books here. If you want to have a look at the books Dr. Hope has written Click Here
Click here for Dr. Hope's Poker Bookstore
Dr. Hope Recommends Reading These Poker Books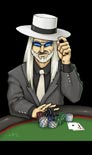 We are soooo lucky! There is a wealth of information from world champions that is available right now to those of us who want to improve our poker skills. I personally have read over 60 books on poker, mostly good, some bad, but I always managed to learn something from each one. Here are a few of my recommendations for the poker player who wants to improve his game.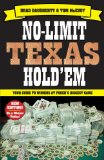 No-Limit Texas Hold'em: The New Players Guide to Winning Poker's Biggest Game
If you're new to the game, the first book I want to recommend was written by two individuals that each have won the Main Event at the Word Series of Poker, Tom McEvoy and Brad Daugherty. They wrote a book to help the beginning player learn the game and stay out of trouble. And that's exactly what they did. The book entitled: No-Limit Texas Hold'em: The New Players Guide to Winning Poker's Biggest Game will do exactly what it says it will, guide the new player to quickly get a grasp of the game. Brad told me that he had gotten a lot of flack from other pro's about the book. I told him that they should re-read the part in the title that say's, "New Players Guide" and that I would give it the recommendation that it deserves. I ran into Tom at a party and told him the same thing, that it is a must read for the beginning player, I stand by that. For more details click on the book.
S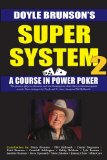 Super System 2: Winning Strategies for Limit Hold'em, Cash Games and Tournament Tactics
The Holy Grail of poker books is, of course, Doyle Brunson's Super System. My copy's over twenty years old. It contains poker articles written by the game's greats. The No-Limit sections is written by Doyle and when he wrote the book he got a lot of flack from other poker pro's but for a different reason. They would say, "Doyle, why do you want to give away all of our secrets?" Every poker player should read what this two time champion of the World Series of Poker Main Event has to say. Just click on the book for more details.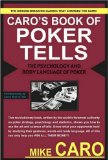 Caro's Book of Poker Tells
Thirty years ago the only game in town was 5 card draw poker. The undisputed best draw poker at that time was Mike Caro, he wrote the draw poker section in Doyle's first Super System. Even though I've know Mike for over 30 years, to this day Mike can't remember my name. I'm sort of the same way, I recognize lots of players but can't remember their names. The important thing to remember is how they play and what clues you can get from their mannerisms. In Mike's book he coins the phrase, 'Poker Tell' and gives illustrations of what people unwittingly do that reveals their hands. This book is a must-have for any poker player's library. Click on the book for more details.
Championship No Limit & Pot Limit Hold 'Em (Championship Series)
If tournament poker is your thing and you're new to it, take a lesson from the man who has won more tournaments than anyone else, T. J. Cloutier. Co-written with Tom McEvoy, this book will give the foundation on which you can grow as a tournament poker player. How much do I bet or raise, when should I fold, when should I bluff? These answers are competently given in this easy to understand dissertation written by two of the most recognizable figures in the game. Click on the book for more details.
Harrington on Hold 'em Expert Strategy for No Limit Tournaments, Vol. 1: Strategic Play
Harrington on Hold 'em Expert Strategy for No Limit Tournaments, Vol. 2: Endgame
Harrington on Hold 'em: Expert Strategies for No Limit Tournaments, Vol. III--The Workbook (Harrington on Hold'em)
Dan's trilogy on No-Limit Poker tournaments is impressive. They are for advanced players and, in my opinion, probably shouldn't be read until you have a lot of tournament experience. If you want to learn tournament play at it's highest levels, these are the books for you. Click on the book for details.
There are way more than just these, books like Daniel Negreanu's Hold'em Wisdom for all Players
and Johnny Chan's Play Poker Like Johnny Chan, Book One: Casino Poker
are definitely worth having in your library. Click on the title to check them out or
Click Here to see all the books in the Dr. Hope Poker Bookstore
But first scroll down and look at these cool pics of Courtney!
Here's a shameless plug for Dr. Hope's book, which of course is mostly about a different part of your game, staying in shape so you can stay mentally alert. This easy 10 minute hotel room workout has helped some world-class poker players stay in shape. Dr. Hope, for one. Anny Duke told Dr. Hope that Eric Seidel uses this workout whenever he is on the road. T.J. Cloutier told Dr. Hope, "There's some good stuff in that book." The beautiful World Poker Tour Host, Courtney Friel, demonstrates all of the exercises.
The name of the book is: Pumping Iron: A Traveling Poker Player's 10 Minute Hotel Room Workout. Here are some pictures from it: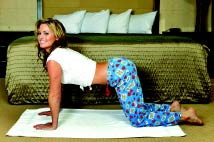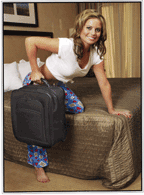 Here's what people are saying about this book:
Absolutely the best book I've ever read in my whole life! It's hilarious and well written.-- Dr. Hope's mom

If you travel you need this book! You should buy at least one copy - no wait- at least three copies, of this fantastic innovative book! --Dr. Hope's publisher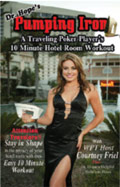 Want  it?  CLICK HERE Help support this site by purchasing your copy of
Dr. Hope's Pumping Iron: A Traveling Poker Player's 10 Minute Hotel Room Workout today!