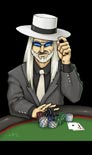 What's an award-winning children's book author doing playing poker?
Simple: he loves it. Dr. Hope is a part time poker professional. In the past five and a half years he has played in 285 tournaments, has won 24 un-televised events and made 70 final tables. One of them was a World Poker Tour event at the Aviation Club de France in Paris in which he placed fourth.
Tim 'Dr. Hope' Anders and Children's Books
Born in New York City, Tim (Dr. Hope) learned a spirit of optimism and humor from his mother that would stick with him throughout his life. When he was forcibly separated from her at an early age, these lessons empowered him to cope with his ever-changing surroundings.
Having lived in foster homes, state run dormitories, with stepparents, grandparents and in boarding schools, Tim saw first hand, abuses that most of us can only imagine.
Tim vowed that one-day he would give children the same tools that had helped him cope with difficult situations and disagreeable people. And boy, did he. From the promise he made to himself came the award winning "Life Lessons Series," a series of children's books that teach children "life" lessons in entertaining and amusing ways.
In the past several years, Tim has had six of his children's books published: The critically acclaimed Laughing Day, Chip, the Little Computer, The Frog Who Couldn't Jump, Punctuation Pals, Wonderful Wuzs, and Little Miss Contradiction and the Fuzzywinkle. He received a Certificate of Award from the San Diego Book Awards Association for Outstanding Accomplishments in Writing for his first bilingual children's book, Chip, the Little Computer and again for Laughing Day.
Tim is also a talented piano player, composer, lyricist, and producer. He has teamed up with Comic/Actor/Singer Russ T. Nailz and together they have created a series of delightfully humorous children's CDs and cassettes. On the CDs, Tim's stories are brought to life through talented voice actors (Russ T. Nailz is amazing!!), special audio effects, heart-felt background music, and delightfully humorous songs that make kids think and laugh.
Tim 'Dr. Hope' Anders and Poker
At the ripe old age of 12, inspired by the TV show Maverick, Tim started playing poker. He bought his first poker book, 'Poker According to Maverick' around that time and studied it intently. Throughout his teen years and his early twenties, he played in the occasional home game and was a consistent winner. He worked as a musician and while on the road, he would play the sporadic poker game in which again, he was a consistent winner.
It wasn't until his late twenties that he thought that he would try playing poker for a living. He got up a small bankroll and went off to Gardena, CA to play poker. Within a few hours he was broke. He raised another bankroll and tried again and once more, as he likes to say, "Those nice blue-haired little old ladies took my money faster than a seasoned pickpocket in a crowded subway." Because of this embarrassing failure Tim went on a quest for poker knowledge. He bought and studied poker books written by poker masters, most notably by Mike Caro and Doyle Brunson. He went back to Gardena and for six months successfully made his living solely from his earnings as a poker player.
Music, writing, and business interests led Tim away from poker and he became just a recreational player for many years. He still loved the game, it was just that he loved other things more, so he pursued them.
Today Tim still loves the game and tries to play as many WPT events as his busy schedule permits. He now has read over fifty books on poker but says a good portion of what he has learned has come from watching his opponents. Some of the players he has played with in WPT events are: Mike Caro, Johnny Chang, Jen Harman, Amir Vahedi, Annie Duke, Daniel Negreanu, Allen Cunningham, Alan Goehring, Phil Laak, Dan Harrington, Marcel Luske, Kenna James, and T.J. Cloutier, just to name a few. Tim credits playing along side of these world-class players and watching the World Poker Tour on TV with helping him to become the poker player he is today.
In 2005 Tim made the final table twelve times in untelevised tournaments (three of which he won), and was a World Poker Tour Finalist in Paris, France. One of his main goals in life is to make the world a better place for children. To that end he writes his children's books and donates a portion of his poker winnings and book and CD sales to Childhelp, USA, an organization that fights child abuse and neglect. His books and CDs are available at: www.drhope.com